Getting Here
The Festival is always held on the second weekend of August at
Si View Park
, 400 SE Orchard Drive, North Bend, Washington. Admission is free.
*Note that Orchard Drive is partially closed to through traffic during the Festival.
View
Festival Map
here.
Local road closures during the Festival at Mount Si:
Orchard Drive adjacent to Si View Park will be closed during the Festival - Saturday August 13th with local access only.
On Saturday, August 13 from 9:30am-12:00pm, North Bend Way will be closed from the roundabout at Cedar Falls Way to Main Ave, then right on Main Ave. Main Ave is closed between North Bend Way and 2nd St. 2nd St is closed from Main Ave to Janet. Downing St will remain open this year to give access to the QFC parking lot.
During the Parade, QFC can be accessed from their back parking lot entrance via 3rd St to Downing St.
Parade Route Map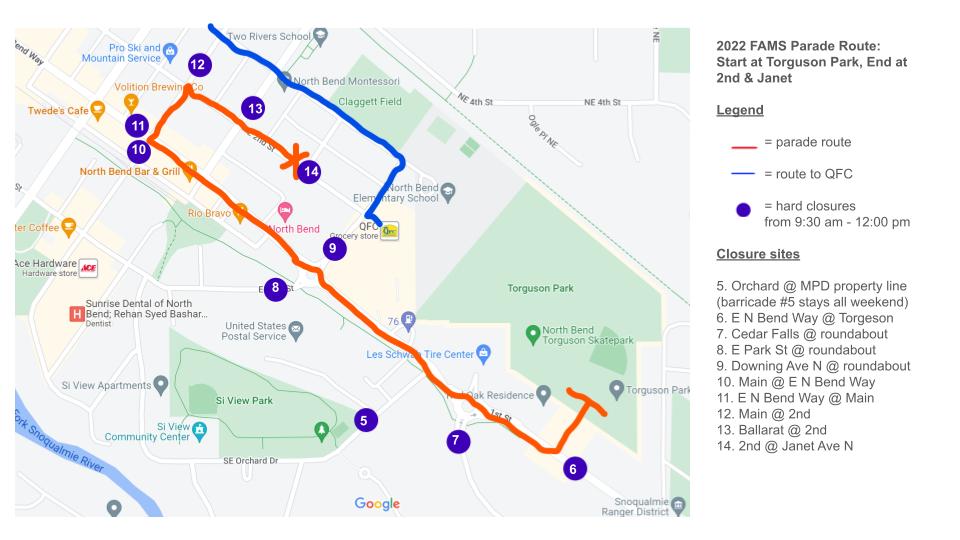 Download the
Parade Route Map
here.
Due to the new medians on North Bend Way, the best parade viewing will be from the north side of the street.