History
For the past 17 years or so, NBECA has managed the Festival at Mt Si, which takes place every August in North Bend. The Festival has been a tradition for at least 60 years, although it was known under another name for a bulk of that time.
NBECA has recently begun to fulfill the educational part of its mission with its Community Service Scholarship program. In 2016, we held the 1st Annual Spring Scholarship Auction at the Si View Community Center in North Bend. With the support of our Valley community, NBECA awarded two scholarships to Mount Si High School Seniors. We have begun work in 2017 to expand into Two Rivers High School in North Bend.
The scholarship is open to HS Seniors who have educational or vocational plans after graduation, have at least a 2.0 GPA and have volunteered in their community. Additional consideration is given to applicants who have volunteered for the Festival and/or the Spring Community Service Scholarship Auction.
You can find more information
here
with our scholarship description.
The Spring Scholarship Auction is the primary event that funds NBECA scholarships. The event includes food and entertainment accompanying a robust program of live and silent auction items. Food is catered by students from the Mt. Si High School Culinary Arts program with entertainment from local students.
New for 2017!
In 2017 NBECA also launched its
Student Creative Contest
which invites students to express their educational and future aspirations in the artistic medium of their choosing and be eligible to compete for a $100 prize at our March 25th Auction.
On a mission: Spring auction event to support Festival at Mount Si's new scholarship program
Snoqualmie Valley Record, January 26th, 2017
"NBECA spring auction returns to support scholarships, Festival at Mount Si"
Read Full Article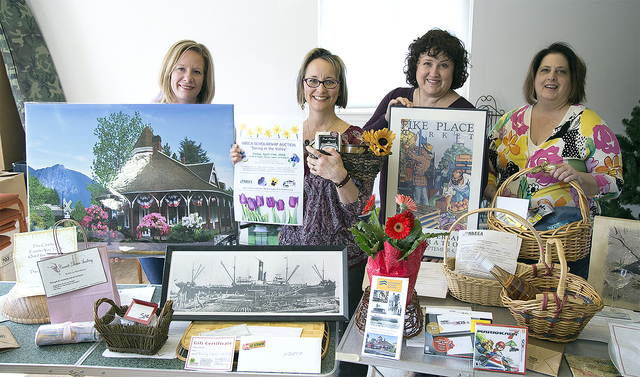 Snoqualmie Valley Record, April 5, 2016
"NBECA is the 16-year-old organization more commonly known as the Festival at Mount Si committee, an all-volunteer group. It's also the sponsor of at least one $1,000 scholarship to be awarded to a Mount Si High School senior, starting this year."
Read Full Article
Latest News
The Chili Cookoff is coming! Visit the Chili Cookoff page to register!
Chili Cookoff Info & Registration
Check out the full weekend schedule and events!
Weekend Schedule
The Festival at Mount Si is looking for volunteers! Please see our
volunteer page
for more information.
We've added ATMs! ATMs at the Festival At Mt Si provided by Cash To Go!